We've got an exciting line of of new pop-up classes for you to try this January through May! From introducing some less-commonly used Pilates equipment to playing around with entire new theories on movement and how to incorporate Pilates day-to-day! We are so excited to share more of the Pilates world with you.
What are our new pop-up classes?
This year our new pop-up classes will be different levels depending on the class. Please observe closely to the level and precautions listed. Remember the beauty of the Pilates method is the pursuit and continued exploration of a balanced and aligned body with a sound mind.
In each pop-up class, you'll dig a little deeper into the style and exercise method of Pilates. These classes and levels are appropriate for those who have some Pilates apparatus or previous fitness experience, continue to focus on understanding proper body position, movement sequencing, breathing techniques, form, and equipment safety. When completing your introductory group package we recommend sticking to level one and two classes.
Pilates Posture Series
Back by popular demand, our Pilates Posture Series brings you better body awareness, a chance to use a different prop or apparatus, and try something new. As instructors, each of us once started where you're at now and grew as mindful movers. With our fun new pop-up classes, such as the Pilates Posture Series, we hope to be a part of that journey with you!
Re-Balance
The Re-Balance pop-up class recognizes that all human beings have asymmetrical breath, posture and movement patterns. Students can expect to assess underlying human biases that create dysfunctional imbalances, and utilize Pilates exercises to re-define neutral, re-train dynamic posture in multiple planes of motion, and restore breath! This work is developed from the Postural Restoration Institute (PRI).

February 4th, April 1st, 11:00AM with Leah
Legs
Pilates work focuses on a strong proximal connection and works towards distal – distal being the tips of your fingers and toes! Before building power in just your legs, work towards core stability and control. This class looks at that work between power, stability, and control to positively affect balance and general fitness benefits. And develops long-term freedom of movement and enjoying what you love to do regardless of age.

February 11th, 11:00AM with Brittney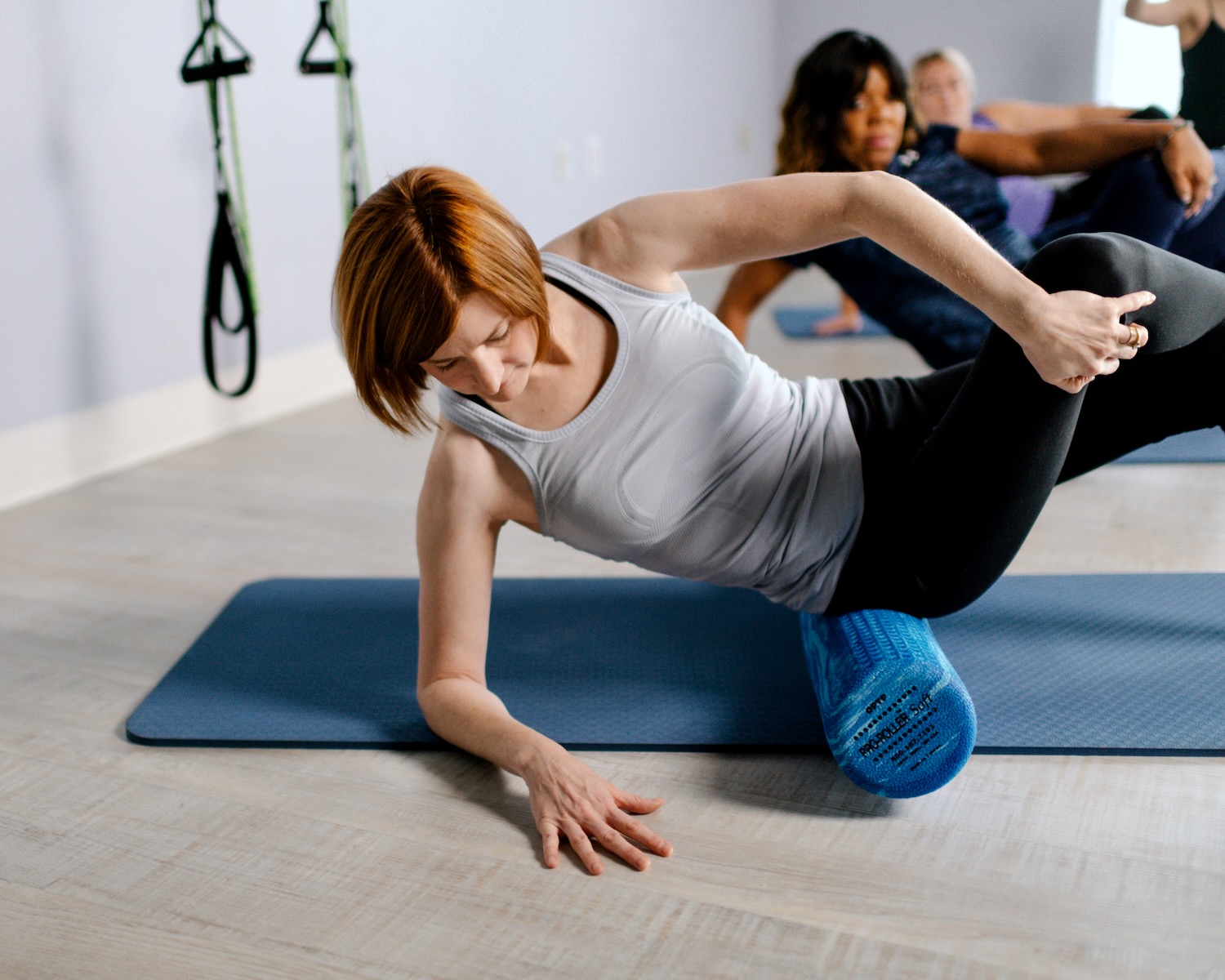 Hips + Glutes
Glutes are your power and thrust when you're running, jumping, walking, squatting, climbing stairs – you name it, glutes need to be strong and firing properly in order to move you through life! This pop-up focuses on when to use and when not to use the glutes to avoid overuse, build proper alignment, and move with stronger balance.

February 18th, 11:00AM with Brittney
Lateral Love
Your core is the bridge between your upper and lower body. Thus core mobility is that synergistic movement of the muscles within your trunk which extend and flex the spine. If there's a weakness in your core or an imbalanced pull of muscles, there can be an inefficiency of movement or even pain and possible injury. This pop-up class focuses on improving the freedom and mobility of your core to improve whole-body movement and decrease stiffness and pain.

February 25th 11:00AM with Morgan
---
Arms
Pilates develops long, lean muscles and flexibility helping to reverse the chronic feelings of compression in your computer stoop! When it comes to arms, shoulders and the upper complex, Pilates exercises train several muscle groups at once in smooth, continuous movements. You can retrain your body, especially related to posture to improve shoulder health and help prevent future injury!

March 4th, 11:00AM with Maddie
Wrist, Knees, and Shoulders
The degradation of joint tissues leads to intra-articular deformities that cause things like clicking, grinding, and joints locking. When it comes to wrist, knees, and shoulders, any kind of body weight can lead to pain! These upcoming new pop-up classes are joint specific. They focus on proper use and function of our joints during exercises, bringing body awareness to the area, and adding strength, stability, and proper function to such intricate parts of the body.

April 8th, 11:00AM Brittney
April 15th, 11:00AM Morgan
April 22nd, 11:00AM Brittney
Hips
Gain control of trunk stabilization to differentiate your hips, or lower body, from your pelvis and low back! This is really important to prevent low back pain and develop proper gait. This class builds up strength and muscle balance to maintain your physical fitness level as you age.

April 29th, 11:00AM Tresa
Pop-Up Class Precautions:
Modifications will be offered for those who have limitations due to joint pain, surgery, or recovery, a variety of props may be offered to aid or deepen an exercise. These classes will be tailored towards those at a beginner level:
Flexion and extension of the spine
Knee, hip, and ankle flexion and extension
Abdominal work involving lifting the head, neck, and chest in flexion
Rolling on the spine while in flexion
Planking exercises that flex the wrist and work the shoulders
Exercises performed while balancing on the knee joint
Lateral flexion and rotation
Disclaimer
THE INFORMATION EXPRESSED ON THIS SITE IS FOR EDUCATIONAL PURPOSES ONLY. WE DRAW ON OUR EXPERTISE AS PILATES AND MOVEMENT SPECIALISTS BY EXPANDING OUR PROFESSIONALISM THROUGH CONTINUING EDUCATION AND PERSONAL EXPERIENCES. WE AIM TO PROVIDE VALUABLE INFORMATION CONCERNING, BUT NOT LIMITED TO, PILATES, FUNCTIONAL MOVEMENT, AND FITNESS. YOU TAKE FULL RESPONSIBILITY FOR ALL DECISIONS NOW OR IN THE FUTURE CONCERNING YOUR HEALTH, LIFE, AND WELL-BEING. THIS INFORMATION IS NOT TO BE USED AS MEDICAL ADVICE EITHER TO DIAGNOSE, TREAT, CURE, OR PREVENT ANY DISEASE OR AILMENTS. YOU SHOULD CONSULT A PHYSICIAN BEFORE BEGINNING ANY EXERCISE PROGRAM.