Pilates, with it's amazing benefits can be a tool through what is an incredibly new, life-altering and nerve-wracking experience for you; pregnancy! Your body during pregnancy, both physically, mentally, hormonally goes through an immense amount of changes. And for some of our students, a benefit of Pilates during pregnancy is just to maintain some level of normalcy. Below we offer some things to think of as you're moving through pregnancy and still wanting to maintain your Pilates practice.
Starting a Pilates Practice
Having become pregnant and just now starting Pilates group classes is not recommend. But a healthy mindful movement practice, like that of Pilates, is incredibly beneficial for its stress relief. You will feel calmer, more relaxed, and able to cope with those physical, emotional, and hormonal fluctuations occurring during pregnancy. Due to the rapidly changing body during your pregnancy, we highly recommend private and semi-private sessions to best support your journey and growth.
You need to understand your body when doing Pilates. Since your body will be going through a lot of changes during pregnancy it is hard to build a foundation of movement. To know what your safe range of motion is and/or what feels normal in your body. So work closely with an instructor during your pregnancy to understand what is safe and what is not.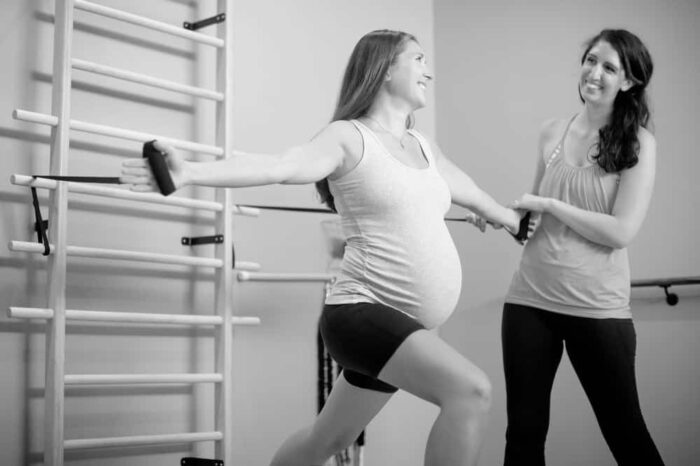 A student has to have previous Pilates experience – ideally 3-6 months – to participate in any class higher than a level two. No exceptions.
If you are brand new to our studio, we highly recommended taking from the same instructor and to attend the same class time. This way, your instructor is familiar with your pregnancy progress, and helps you modify or adjust throughout your pregnancy.
Pregnant Experienced Movers and Group Classes
No matter how big you may feel, how clumsy, how uncoordinated and off-center, the empowerment you take in your physicality and the physiological benefits Pilates offers will help you bring balance back into your life, as well as help during your delivery and recovery after. But how you ask?
Benefits of Pilates Breathing During Pregnancy
Breathing is the first Pilates principle and essential to life! Through breath-work, we can actually help shift your body into a parasympathetic state of rest, digest, and relax.
When oxygen reaches your muscles it helps the tissue relax and thus elongates and stretches the musculature. Going beyond that, elongating the body relieves stress on the joints. Intentional breathing will loosen the tightness in our body and in turn help you breath more freely. Other benefits include lowering the stress hormone cortisol in you body. Improves lung capacity and diminishes shortness of breath. Breath-work begets better breathing! And helps to create more room for your baby within your body!
Why Balance Learned Through Pilates is So Important During Pregnancy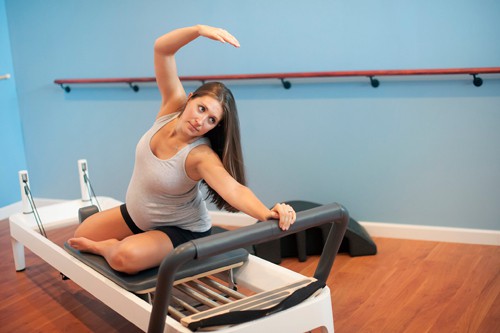 During pregnancy you can gain 25-30% of your typical weight. All of it going to the front of your body. This disrupts your center of gravity, loads the low back and can lead to injury!
Pilates can benefit your pregnancy by elongating your spine *cough, cough Breathing! In addition to strengthening your Inner and Outer Core. It helps balance the forces of gravity on your body as your weight increases and center of gravity shifts.
How Pilates Control Benefits Pregnancy
The Pilates method, through its principle of Control, brings the involuntary action of breathing into a conscious, voluntary action. Such breath control starts to happen naturally during pregnancy because it becomes harder to breathe, especially depending on the baby's location and movements.
The idea of control as bringing forth a conscious effort further influences your bodily coordination at a time when so much feels out of control – like your balance. During pregnancy, the hormone relaxin loosens and relaxes your muscles, joints and ligaments to help your body stretch and grow. So developing a strong sense of control, in fact restricting your looseness and range of motion, is crucial to staying centered and grounded to help prevent injury.
Your Pilates Progression Through Each Trimester
Trimester One (Weeks 1-13):
You may participate in all levels with no modifications, but we encourage you to think "less is more" during this time – especially if you are not feeling well.

Trimester Two (Weeks 13-27):
Between weeks 13-20, limiting prone movements is recommended and encouraged. Limit large range of motion exercises due to relaxin. Eventually, tabletop will become uncomfortable during this time, in which a modification may need to be found. When laying supine, we encourage you to use a wedge – maybe not exactly at 13 weeks, but soon after.
In the second trimester and beyond, it is highly encouraged that you do not participate in classes higher than level two. There will be exceptions, which will ultimately depend on you, your time at Pure Movement, and your work with the instructor. But level one and level two classes will best support the majority of your pregnancy.

Trimester Three (Weeks 27-40):
Students may not attend higher than a level two class – no exceptions. A wedge must be used in supine work and there should be no prone work. Discontinuing at 36 weeks is recommended.
Benefits of Pilates During Pregnancy in Conclusion
Pilates is wonderful during your pregnancy, but when it comes to being a part of a regular group class be mindful of your breathing, balance and control. And work closely with an instructor to find modifications, exercises and even the right time of day for you!
Ask yourself a couple questions to check in with your Pilates journey:
1). At what level am I currently confident and capable?
2). Do I understand the modifications that are right for the stages of my pregnancy?
3). How much Pilates experience do you have? Perhaps ultimately you want to move to privates, working one-on-one with an instructor, to make sure you stay safe and injury-free throughout you pregnancy!
Disclaimer
THE INFORMATION EXPRESSED ON THIS SITE IS FOR EDUCATIONAL PURPOSES ONLY. WE DRAW ON OUR EXPERTISE AS PILATES AND MOVEMENT SPECIALISTS BY EXPANDING OUR PROFESSIONALISM THROUGH CONTINUING EDUCATION AND PERSONAL EXPERIENCES. WE AIM TO PROVIDE VALUABLE INFORMATION CONCERNING, BUT NOT LIMITED TO, PILATES, FUNCTIONAL MOVEMENT, AND FITNESS. YOU TAKE FULL RESPONSIBILITY FOR ALL DECISIONS NOW OR IN THE FUTURE CONCERNING YOUR HEALTH, LIFE, AND WELL-BEING. THIS INFORMATION IS NOT TO BE USED AS MEDICAL ADVICE EITHER TO DIAGNOSE, TREAT, CURE, OR PREVENT ANY DISEASE OR AILMENTS. YOU SHOULD CONSULT A PHYSICIAN BEFORE BEGINNING ANY EXERCISE PROGRAM.