When you learn to move better, your life transforms on every level; physical, mental, emotional, and spiritual. Advanced level Pilates classes move beyond teaching you to recognize and understand how you move to applying Pilates principles in different environments. The Advanced Pilates level trains whole body movement at a global level.
Level 4 Advanced Classes
Training to move better means training to move the whole body better! Advanced level classes build upon functional movement patterns to advance motor learning skills in dynamic, coordinated exercises.
Because of the challenging level, we have only three (3) Advanced Level 4 classes on the schedule. Advanced level classes train your nervous system, integrate the structural support of your skeletal system, restore and release the myofascial system and pushes your cardiorespiratory system!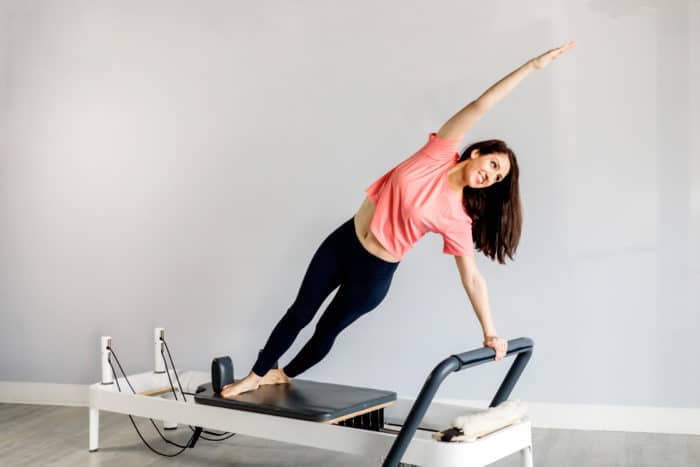 What Makes These Classes Harder?
Discover our Level 4 classes.
In Level 4 classes, you'll push yourself in exercises that test your mindfulness and challenge your stamina. Your strong foundation and body awareness will become second nature, helping you perfect the nuances of a motor skill and honing new movement patterns!
What to Expect
Stability and Mobility
Do you know it and can you control it? At an advanced level you have optimal mobility throughout your joints but you have also developed stability and are able to train in specific planes of motion.
Aligned, Coordinated, and Balanced Movement
Pushing your body beyond its current abilities, each advanced level exercise works the Central Nervous System (CNS). The CNS processes sensory input to calibrate the forces needed to respond to the loaded stress within the musculoskeletal system. You take in the challenges of the exercise, respond within the body, and perform it with smooth, controlled and coordinated movement patterns. You are an unconsciously competent mover!
Adding Load and Resistance
Load, whether heavy or light, can drastically change an exercise. You may consciously know the difference, but can you feel it? Great body awareness and concentration is needed to perform the same exercise with different resistance challenges. This is where you want to perfect the nuances of motor skills.
Performance
This is how well, either explored or new material, you execute the exercise! Pushing you to the edge of conscious competence to increase muscular strength, improve mobility, enhance cardiovascular endurance, and progressive skill proficiency.
Who is Advanced Pilates For?
Advanced level Pilates classes are only appropriate for experienced Pilates movers. Any exercise can cause injury if performed wrong. So even beyond current fitness level, age or other physical activities, it's important to know the Pilates exercises and continually refine each movement.
Advanced Pilates at Pure Movement
Advanced level Pilates classes at Pure Movement are fun, energetic, and challenging! They bring about whole body movement through training stability and mobility, functional movement patterns, challenging load and resistance, and coordinating complex movement for optimal performance. The Pilates method inspires you to be a body detective to better learn how to move with ease, economy and efficiency.
Disclaimer
THE INFORMATION EXPRESSED ON THIS SITE IS FOR EDUCATIONAL PURPOSES ONLY. WE DRAW ON OUR EXPERTISE AS PILATES AND MOVEMENT SPECIALISTS BY EXPANDING OUR PROFESSIONALISM THROUGH CONTINUING EDUCATION AND PERSONAL EXPERIENCES. WE AIM TO PROVIDE VALUABLE INFORMATION CONCERNING, BUT NOT LIMITED TO, PILATES, FUNCTIONAL MOVEMENT, AND FITNESS. YOU TAKE FULL RESPONSIBILITY FOR ALL DECISIONS NOW OR IN THE FUTURE CONCERNING YOUR HEALTH, LIFE, AND WELL-BEING. THIS INFORMATION IS NOT TO BE USED AS MEDICAL ADVICE EITHER TO DIAGNOSE, TREAT, CURE, OR PREVENT ANY DISEASE OR AILMENTS. YOU SHOULD CONSULT A PHYSICIAN BEFORE BEGINNING ANY EXERCISE PROGRAM.