How Pilates training works and what to expect in a beginner-level Pilates class.
All of our classes are assigned a Level so you can start at your current fitness level, progress with strength and movement quality, and become your own body detective. At Pure Movement, beginner-level Pilates is all about assessing your current physical ability and learning style.
Levels 1 and 2 Are Beginner Classes
Our beginner Level 1 and 2 Pilates classes, whether in-studio or virtual, introduce the style of mindful movement to help you develop motor control. What does this mean?
Your instructor is going to cue with their voice, maybe demonstrate by moving their body, or provide tactile cues to help you understand and recognize your control, or lack thereof, of motor skills necessary for a particular exercise.
[Pilates] teaches you about your body while strengthening it without stress on your joints.

-Pat, student for over 10 years
Beginner Level Body Control:
Our beginner classes, especially Level 1 classes, have straightforward, simple exercises. You will repeat them so you can understand how to achieve that particular motor skill. This step is important to help you realize the limitations of your motor control, even if not perfect, consistent practice will help you move to the next level!
Make it a consistent part of your schedule and stay with it because nothing else will give you the same results.

Sandy, student for over 10 years
Purpose of Beginner Level Exercises:
In Level 1 and 2 classes, you are starting to organize bones, joints, and overall muscular balance. So we start with exercises that address major muscle groups too long neglected and weak, making sure you feel it when you walk out the door.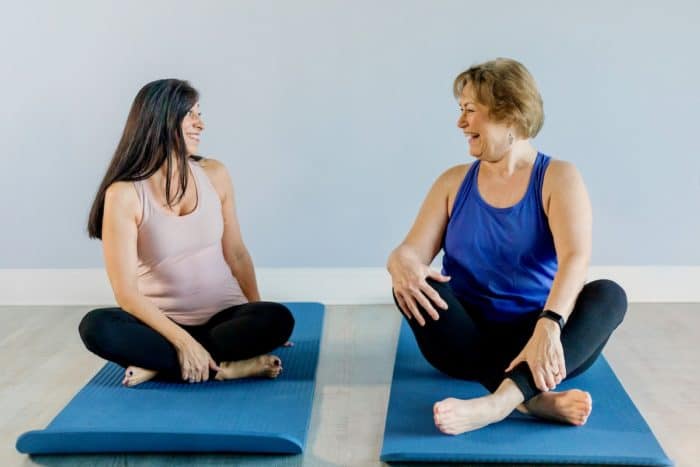 The first benefit was emotional. I felt I was doing something good for my body! The second benefit was starting to feel stronger. The third was improved body awareness.

-Carrie, student for over 10 years
Assess and develop a baseline of mobility and stability. How to move with coordination and balance. And introduce load and resistance to challenge strength and power.
Add in differentiation, learning how to hold something still and move something else in isolation! It introduces more functional movement coordination, these are the movements you'll be performing outside of the studio, while continuing to build strength and power.
Who is Beginner Pilates For:
Beginner-level classes introduce everyone to the world of mindful movement and the unique style of Pilates. But it is also great for experienced movers because of how it breaks down exercises! It is especially great for individuals returning to movement after surgery, rehab, or injury. Whether an experienced mover or brand new, beginner Levels 1 and 2 are suitable for everyone.
Beginner Pilates at Pure Movement
Level 1 and 2 classes at Pure Movement introduce the style of Pilates as an exercise that is mindful movement. You will learn Pilates exercises and their purpose and repeat them to build cognizant motor control. Start your Pilates journey with Levels 1 and 2 and know you can always level up or step back down, learning and building motor control and strength as you go!
Disclaimer
THE INFORMATION EXPRESSED ON THIS SITE IS FOR EDUCATIONAL PURPOSES ONLY. WE DRAW ON OUR EXPERTISE AS PILATES AND MOVEMENT SPECIALISTS BY EXPANDING OUR PROFESSIONALISM THROUGH CONTINUING EDUCATION AND PERSONAL EXPERIENCES. WE AIM TO PROVIDE VALUABLE INFORMATION CONCERNING, BUT NOT LIMITED TO, PILATES, FUNCTIONAL MOVEMENT, AND FITNESS. YOU TAKE FULL RESPONSIBILITY FOR ALL DECISIONS NOW OR IN THE FUTURE CONCERNING YOUR HEALTH, LIFE, AND WELL-BEING. THIS INFORMATION IS NOT TO BE USED AS MEDICAL ADVICE EITHER TO DIAGNOSE, TREAT, CURE, OR PREVENT ANY DISEASE OR AILMENTS. YOU SHOULD CONSULT A PHYSICIAN BEFORE BEGINNING ANY EXERCISE PROGRAM.