When you know more about diabetes you're aware of just how prevalent its diagnosis is and how you can support those affected. Everyone experiences this silent disease: adults, and children living with diabetes, family members of loved ones with diabetes, health care professionals, and diabetes researchers.
Weighing in on this topic Michelle Crawford – T1D, Leah Grant – T1D, and Connie Laux – Registered Dietitian. All are active members of our studio and work with and experience diabetes firsthand.
A diagnosis is unique for everyone!
For Michelle, "I never had any noticeable clinical symptoms of diabetes or became traditionally sick the way most kids are with type 1. I broke out in hives. I went to an allergist and the allergist diagnosed it." Excessive thirst, weight loss, blurry vision, and fatigue, are common signs of type one diabetes. But everyone is different and has a unique diagnosis.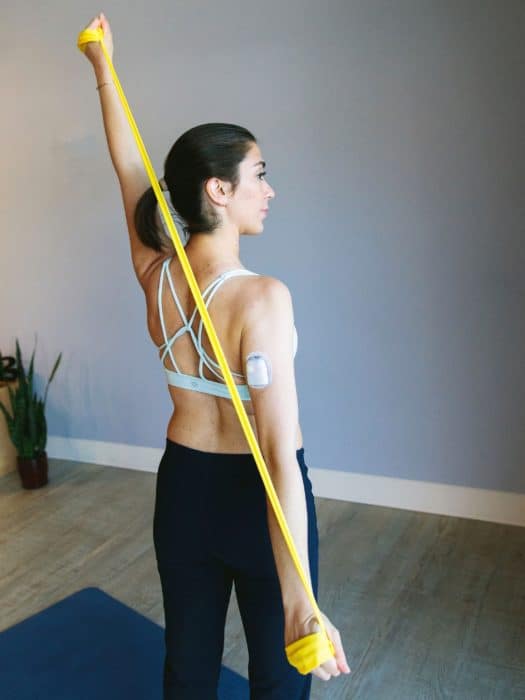 "I've had patients that were diagnosed by their eye doctor, another that went to the dentist and the dentist informed them they were showing signs of diabetes in their gum tissue," adds Connie. While it may be important to note these were both type 2 cases, these weren't individuals neglecting their health. It illustrates how diabetes affects any and every part of the body and how unique it is per person. "Consistently high blood sugars change your vision, affect kidney function, your reproduction, skin clarity, a multitude of secondary complications are related to uncontrolled blood sugars," says Connie. Awareness of these changes is so important to recognizing diabetes and supporting a proper diagnosis.
A test to reveal a big picture window into someone's blood sugar health is called an A1c. This test measures your blood sugar levels over the past two to three months. The average non-diabetics A1c would be below 5.7%. For diabetics, keeping it less than 7 is a gold standard, but that can be a big struggle depending on an individual's lifestyle, management method, and genetic history (more on that in the next installment).
What are the different types of diagnosis?
Diabetes includes type 1 diabetes, type 2 diabetes, gestational diabetes, and prediabetes. It's important to make a distinction because it affects how you manage the disease and how we as a community support each other. The American Diabetes Association defines the different types as such:
"In type 1 diabetes, the body does not produce insulin. The body breaks down the carbohydrates you eat into blood sugar that it uses for energy—and insulin is a hormone that the body needs to get glucose from the bloodstream into the cells of the body.
Type 2 diabetes is the most common form of diabetes—and it means that your body doesn't use insulin properly. And while some people can control their blood sugar levels with healthy eating and exercise, others may need medication or insulin to help manage it.
With gestational diabetes, we know that the placenta supports the baby as it grows, and sometimes these hormones also block the action of the mother's insulin to her body and it causes a problem called insulin resistance. This insulin resistance makes it hard for the mother's body to use insulin. And this means that she may need up to three times as much insulin to compensate.
When it comes to prediabetes, there are no clear symptoms—so you may have it and not know it. Here's why that's important: before people develop type 2 diabetes, they almost always have prediabetes—blood sugar levels that are higher than normal but not yet high enough to be diagnosed as diabetes. You may have some of the symptoms of diabetes or even some of the complications." diabetes.org/diabetes
To illustrate the common confusion Leah shares a personal story, "I was riding the subway reading Think Like A Pancreas when someone reading over my shoulder, unprompted of course, asks Are you diabetic? I answered yes. And then he asks type 1 or type 2? I answered type 1 and he replies, That's the good one right? – Let me clear, there is no good one."
Connie adds, "I've been working with people with diabetes for 35 years. Patients come in and brush it off saying, Oh I don't really have diabetes, I just have the prediabetes, or I just have a little high blood sugar. Either you are or you aren't!" If there is ever even concern it is so important to get the testing. Your overall lifestyle is enhanced if you get on top of it sooner.
The supportive takeaway.
Help support your community by becoming aware of the different diabetes diagnoses. Type 1 is an autoimmune disease. Type 2 can be due to family history, lifestyle, genetics, even secondary effects from other infections. Both have similarities in the signs. But often type ones have unexplained weight loss because they aren't absorbing any nutrients going into the body. A lot of the clinical science is similar. However long-term side effects from diabetes don't happen quickly, often resulting from chronicity. An undiagnosed Type 1 will become severely ill before complications of prolonged diabetes would be noted. Type 1 diabetes can often be misdiagnosed. Sadly resulting in life-threatening illness at the time of diagnosis. It is for this reason that it is extremely important to know the warning signs of diabetes.
Each unique diabetes diagnosis requires a unique support system. Stay tuned for our next discussion on management!
---
Disclaimer
THE INFORMATION EXPRESSED ON THIS SITE IS FOR EDUCATIONAL PURPOSES ONLY.  WE DRAW ON OUR EXPERTISE AS PILATES AND MOVEMENT SPECIALISTS BY EXPANDING OUR PROFESSIONALISM THROUGH CONTINUING EDUCATION AND PERSONAL EXPERIENCES.  WE AIM TO PROVIDE VALUABLE INFORMATION CONCERNING, BUT NOT LIMITED TO, PILATES, FUNCTIONAL MOVEMENT, AND FITNESS. YOU TAKE FULL RESPONSIBILITY FOR ALL DECISIONS NOW OR IN THE FUTURE CONCERNING YOUR HEALTH, LIFE, AND WELL-BEING. THIS INFORMATION IS NOT TO BE USED AS MEDICAL ADVICE EITHER TO DIAGNOSE, TREAT, CURE, OR PREVENT ANY DISEASE OR AILMENTS. YOU SHOULD CONSULT A PHYSICIAN BEFORE BEGINNING ANY EXERCISE PROGRAM.
---