A Healthy Spine knows when to be stable and when to be limber, when to brace against external forces and when to transfer those external forces throughout the body. In these 6 Pilates mat exercises, we'll look at some stretches to increase mobility, as well as exercises to increase stability, all to build a healthy spine. Your body's ability to pass back and forth between a strong spine and a fluid spine; whether twisting, stretching, walking, and/or running, is what defines a Healthy Spine.
Exercises for Healthy Spinal Mobility
Sitting on and compressing your hips and low back all day can inhibit our body's natural range of motion. These gentle stretches help to relieve low back pain, stretch the hips, and free the spine before we move into strength-building exercises.
1. Knee Stirs
Gently guide the hips in a circular motion with your hands. You're looking for a fluid motion, no sticking or popping.
2. Spiral Twist
Your spine is from the top of your head to the tip of your tailbone. Start with your feet mat distance apart and your head cradled in your hands. This deep rotation starts to work into your shoulders and neck as well as your low back and hips.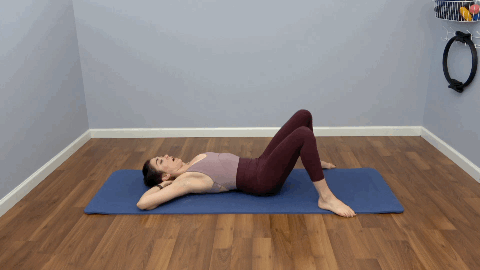 3. All Fours Free Move
Similar to a Cat-Cow stretch, this also incorporates lateral rib movement that glides your ribcage in a circular motion.
Exercises for Healthy Spinal Stability
To strengthen your spinal stability, you want to work all the little stabilizing muscles that run up and down your spine, and around your spine front to back. These are the muscles and ligaments that support the spine: the transversus abdominis, pelvic floor, multifidi, diaphragm, anterior fibers of the psoas major, and quadratus lumborum. You also want to strengthen the back of your body, like your glutes and hamstrings.
4. Figure Four Twist
While this exercise stretches your glutes, it also challenges your body's ability to identify neutral and return to it from a twisted position. Focus on the rotation happening from the low ribs all the way to the sacrum, the triangular boney piece at the end of your spine.
5. Seesaw
Not just a playground toy, Seesaw starts to play with the whole length of the spine. It engages your glutes and hamstrings in Bridge, then flows right into the deep abdominal engagement and spinal articulation to roll up!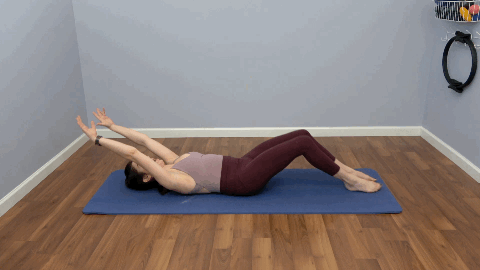 6. All Fours Opposite Arm/Leg Reach
Flipping to tabletop and maintaining those spinal stabilizers, like your abs, is a whole new game! This exercise quickly starts to challenge your balance. Start with a simple arm or leg reaching, then build up to opposite arm and legs reaching! This is a great preparatory exercise for planks!
What is a Healthy Spine?
A Healthy Spine is a spine that doesn't scream at you in the morning. A spine that allows you to bend down and pick something up. It can twist and rotate front to back, side to side, especially top to bottom. A Healthy Spine is a happy body! Try incorporating a few of these simple mat exercises into your day-to-day, or even a fuller workout routine, and start to feel your own Healthy Spine!
Disclaimer
THE INFORMATION EXPRESSED ON THIS SITE IS FOR EDUCATIONAL PURPOSES ONLY. WE DRAW ON OUR EXPERTISE AS PILATES AND MOVEMENT SPECIALISTS BY EXPANDING OUR PROFESSIONALISM THROUGH CONTINUING EDUCATION AND PERSONAL EXPERIENCES. WE AIM TO PROVIDE VALUABLE INFORMATION CONCERNING, BUT NOT LIMITED TO, PILATES, FUNCTIONAL MOVEMENT, AND FITNESS. YOU TAKE FULL RESPONSIBILITY FOR ALL DECISIONS NOW OR IN THE FUTURE CONCERNING YOUR HEALTH, LIFE, AND WELL-BEING. THIS INFORMATION IS NOT TO BE USED AS MEDICAL ADVICE EITHER TO DIAGNOSE, TREAT, CURE, OR PREVENT ANY DISEASE OR AILMENTS. YOU SHOULD CONSULT A PHYSICIAN BEFORE BEGINNING ANY EXERCISE PROGRAM.