We all get butterflies in our stomachs when we're starting something new. But we don't want nerves to keep you from doing something you've always wanted to try. We want you to succeed at your fitness goals. The last thing you need to get hung up on is getting started. Because of that, we've answered some commonly asked questions about your first Pilates session.
What are my first steps to start the proccess?
1). Please purchase your introductory session online.
2). Make sure you've filled out your student information and waiver online.
3). Is your appointment confirmed? Make sure you get an email confirmation.
4). Think about what your goals are in starting a Pilates program. By talking to your instructor about your goals and where you're at now, you'll get more out of your first Pilates session.
What happens during the first Pilates session?
During a first session, your instructor will give you a very fundamental Pilates class; introducing form, technique, breathing, and equipment usage. This gives the instructor an opportunity to see how you move, take cues, and observe your physicality. Most importantly, your instructor and you will discuss what goals you have in starting up a Pilates program.
Although it's just your first Pilates session, your overall personal fitness and movement goals are very important when building a successful exercise program. This includes any limitations you may have from previous injuries or surgeries, which is exceptionally important if you wish to continue into group classes (more on that later).
FAQs of a First Pilates Session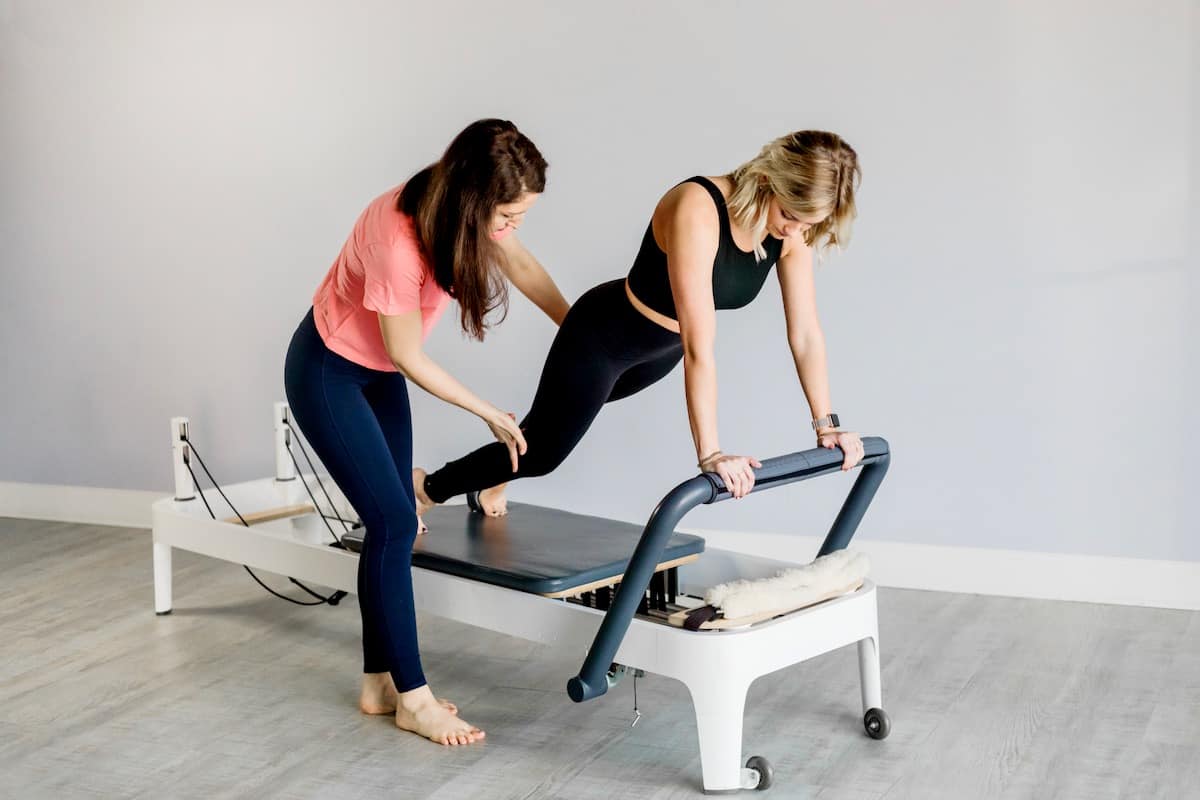 What should I bring?
Just yourself! We provide all the equipment, towels, and water, although you are welcome to bring your own bottle to refill.
What should I wear?
Form-fitting clothes are best (nothing very baggy, think yoga wear) as it allows the teachers to read movement lines better. We either allow bare feet or sticky socks on the reformers. Please, no regular socks due to the risk of slipping.
How long is the first Pilates session?
The session will be 45-50 minutes in length, however, please book out a full hour in your own personal schedule.
Where are you located?
Our address is 526 West Jefferson Boulevard Fort Wayne, IN 46802.
We are ideally situated in the historic West Central neighborhood at the corner of Jefferson Boulevard and Fulton Street, offering easy in and out access and front-door parking at no cost. Our downtown location is centrally located, and easy to get to from the Greater Fort Wayne Area.

What happens after the session? 

The instructor will either recommend additional privates or give the green light that you are able to enter group classes. Pilates, as a mindful fitness modality, is very form focused and we always encourage more privates before entering group classes.

Take notice of how you feel after the session. Are you a bit taller? Are you a little less pain free? Share it with your instructor the next time you see them – we always appreciate feedback.
Important Arrival Notes and Covid Precautions
Due to minimizing the number of people in our studio at one time, please do not enter our building more than 10 minutes prior to your scheduled session. For further information regarding Covid precautions, review our Cleaning Precautions.
Make sure you enter through Idlehour Boutique to access our studio. If your introductory session is scheduled outside of the hours of 10-3, there may not be anyone at the desk at the time of your arrival. Feel free to hang out in the boutique or have a seat. If you need to change, we have two dressing rooms in the back of the boutique to use. Your instructor will be out soon to greet you after finishing a previous session.
We are always excited to welcome you to Pure Movement studio for the first time and introduce you to the world of Pilates! Don't be shy about asking questions or speaking up about what you're hoping for from a Pilates program. Our instructors love what they do and hope to contribute to your overall health. Each of us once started where you are at now; with a first-time beginner Pilates session, that lead us done a journey of mindful movement. We hope to be a part of that journey with you!
Disclaimer
YOU SHOULD CONSULT A PHYSICIAN BEFORE BEGINNING ANY EXERCISE PROGRAM. THE INFORMATION EXPRESSED ON THIS SITE IS FOR EDUCATIONAL PURPOSES ONLY. WHILE WE DRAW ON OUR EXPERTISE AS PILATES AND MOVEMENT SPECIALISTS, EXPANDING OUR PROFESSIONALISM THROUGH CONTINUING EDUCATION AND PERSONAL EXPERIENCES, WE AIM TO PROVIDE VALUABLE INFORMATION CONCERNING, BUT NOT LIMITED TO, PILATES, FUNCTIONAL MOVEMENT, AND FITNESS. YOU TAKE FULL RESPONSIBILITY FOR ALL DECISIONS NOW OR IN THE FUTURE CONCERNING YOUR HEALTH, LIFE, AND WELL-BEING. THIS INFORMATION IS NOT TO BE USED AS MEDICAL ADVICE EITHER TO DIAGNOSE, TREAT, CURE, OR PREVENT ANY DISEASE OR AILMENTS.