The way we stand, walk, slouch, reach, and push, all of it is an expression of a lifetime of habits. These habits are reflected in the way we move. So the more easily we move and get around in life, the less pain we have. We can retrain these movement habits through functional exercises that teach proper alignment and better posture. Pilates is a way to strength train pain free.
How to train to live pain free?
You can break out any one exercises into three different levels: Global Movement, Integrated Planar Movement, and Local or Regional Movement! While strengthening and retraining your habits at any of these levels, you want to be able to move pain-free. For in-studio strengthening and stretching classes click here. Or to book your first intro private to build your body awareness click here. Either way, you'll start your journey to strength train pain free.
For example, you're sitting at your desk, but you need to reach for a book that is in the filing cabinet behind you to the right. How do you get it? Let's discuss.
Local or Regional Movement
Local or regional is the most self-explanatory and relatable. Perhaps we've all had localized pain, like a sprained wrist or tender knee.
Within this movement example, we're looking at the specific joint strength and shoulder stability to pick up the book, as well as spinal mobility and abdominal support to turn and reach behind you.
Integrated Planar Movement
This gets a little more nitty-gritty in understanding movement, but the body has been divided into different planes: sagittal, frontal, and transverse.
The take away though is that turning around, flexing sideways while lifting the arm, and extending the spine to reach behind you are all different planes of movement.
Global Movement
Global movement is the highest level view.
It's assessing how you're sitting in the chair, the angle that you would turn towards the cabinet behind you. The balance and coordination required to reach and the strength required to pick up the book despite leaning and being off-center.
How does Pilates help you to move pain free?
At any point during the act of turning around and reaching for the book behind you, there could be pain. Many of us experience the more local movement moments of failure, maybe in wrist strain, knee pain, or a tender shoulder. But that's where developing a sound strength training program helps. Focus your strength training on how the whole body moves towards living pain free.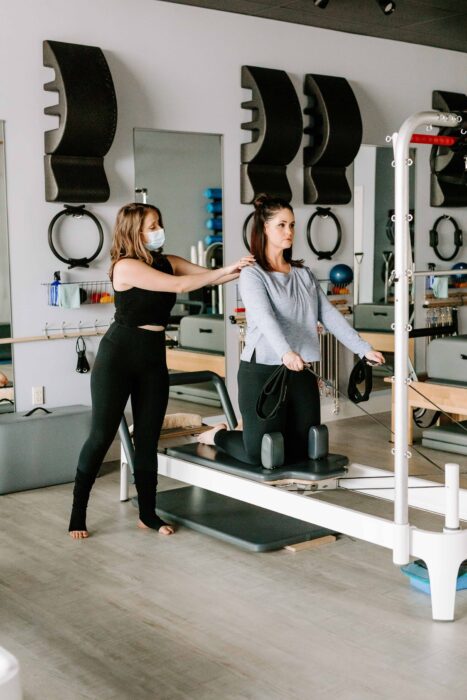 In each class, your Pilates instructor continuously assesses and observes the three levels of movement and seeks to improve your local and regional, integrated planar, and global movements.
But you will also learn and become aware of your body's own misalignments and instabilities and begin to make changes! That's the most exciting part.
Pulling back to the panoramic global view to strengthen and train towards living and moving pain free.
Try a Total Body Toning class, an intermediate mat flow, with challenges to the wrists, shoulders, and other joints. You'll learn pretty quickly those points of failure. Once you establish a competency at a local level, we can begin to make changes!
You can check out our full in-studio class lineup here or schedule your first intro private to begin your mindful movement journey. Through Pilates, you'll start your journey to strength train pain free.
Disclaimer
YOU SHOULD CONSULT A PHYSICIAN BEFORE BEGINNING ANY EXERCISE PROGRAM. THE INFORMATION EXPRESSED ON THIS SITE IS FOR EDUCATIONAL PURPOSES ONLY. WHILE WE DRAW ON OUR EXPERTISE AS PILATES AND MOVEMENT SPECIALISTS, EXPANDING OUR PROFESSIONALISM THROUGH CONTINUING EDUCATION AND PERSONAL EXPERIENCES, WE AIM TO PROVIDE VALUABLE INFORMATION CONCERNING, BUT NOT LIMITED TO, PILATES, FUNCTIONAL MOVEMENT, AND FITNESS. YOU TAKE FULL RESPONSIBILITY FOR ALL DECISIONS NOW OR IN THE FUTURE CONCERNING YOUR HEALTH, LIFE, AND WELL-BEING. THIS INFORMATION IS NOT TO BE USED AS MEDICAL ADVICE EITHER TO DIAGNOSE, TREAT, CURE, OR PREVENT ANY DISEASE OR AILMENTS.