Pilates is an innovative method of mind-body exercise that combines strengthening, flexibility, and balance for a workout like you've never had before. Utilizing various apparatuses and props, each session is different and never like the one before.
Our instructors go through extensive anatomy and biomechanic training to offer a well-rounded and tailored workout specifically for your body type. Many of our students suffer from previous injuries or surgeries and it's our job to be able to build a modifiable workout for each individual.
Pilates is a workout for someone who is searching for an exercise program that adapts to them, not something that they must adapt to.
How Do I Get Started in Group Classes?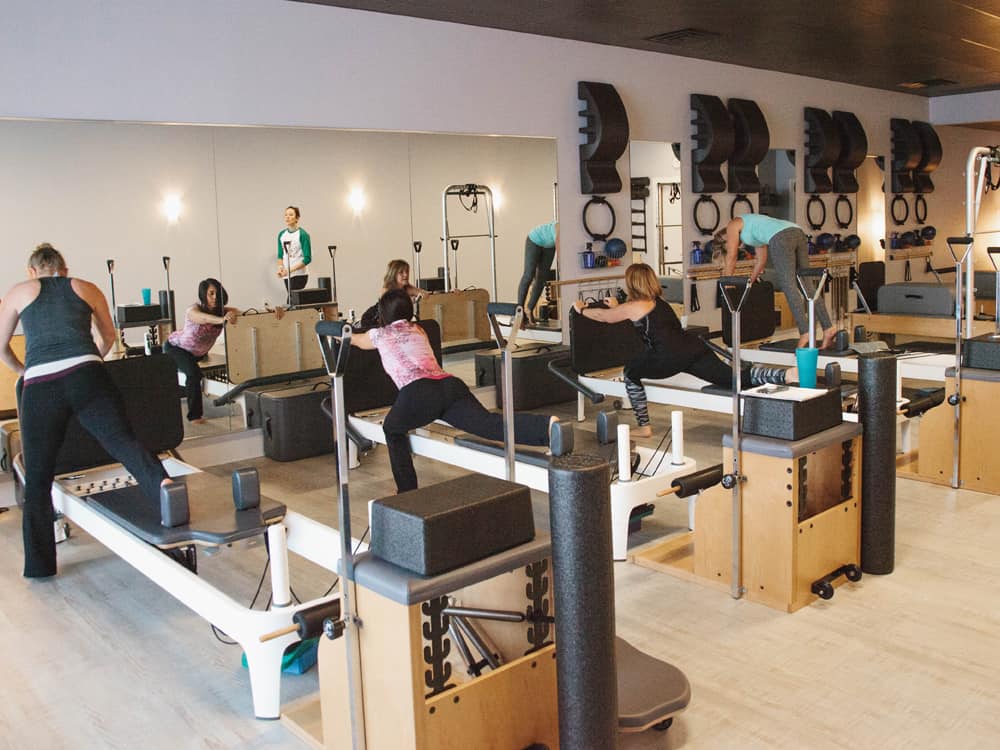 What are the Class Levels?
Class levels are designed to give you the best class experience for your level of Pilates mastery. Certain props, exercises, and movements may be used in some classes, but not others.
Beginner level classes. Appropriate for those who are not experienced movers, new to apparatus Pilates or have limitations due to joint pain, surgeries, or recovery.
While modifications will absolutely be offered for different exercises, the following exercises may be included in this class:
Flexion and extension of spine
Abdominal work involving neck flexion
The following props and assists may be included in this class:
Short/Long Box
Magic Circle
Theraband
Maple Dowel
General Information and History of Pilates
What Type of Equipment is used in Pilates?
This piece of equipment is the most widely used and versatile piece of equipment developed by Joseph Pilates. Using a simple wooden frame, a movable carriage, springs, a footbar and adjustable leather straps, Joe invented an exercise machine that address virtually every part of the body. Exercises can be performed either on your back, stomach, knees, standing or sitting, and challenge you to stabilize the trunk using your own body weight along with spring resistance to allow the extremities to move from a stable torso.
Springs of varying strengths provide resistance and support while the student pushes on the footbar, pulls on the straps, lies on the box or stands on the carriage. Starting with just the exercises that Joe invented there are more than 50 different moves that can be varied to suit the student's needs and fitness level. Exercises vary from simple isolated movements of the arms and legs to complex exercises involving the whole body.